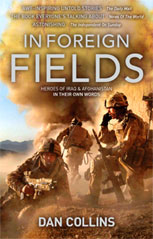 In Foreign Fields:
True Stories Of Amazing Bravery From Iraq And Afghanistan
– Edited by Dan Collins
price:
£7.99
(+ free postage & packing in the
UK - overseas buyers please contact us first)
this book is available for immediate dispatch

Published September 2008 – papereback
ISBN:
978-1-906308-04-9


Buy
this as an
eBook
NOTE:
Kindle software needed – you will be directed to a free Kindle download for PC and Apple Mac

Download
a
free
extract from this book


Click above to download a
25
page extract.
NOTE:
Adobe Reader
is required to view this PDF file

Book Description
Iraq and Afghanistan are two seething cauldrons of hatred and death - lands of roadside bombs, rocket propelled grenades and savage ambushes. Day after day, our soldiers face implacable and ferocious enemy forces in the searing heat and choking dust. But the young men and women of our armed forces do not have the luxury of deciding where they fight, and in these faraway deserts and towns, a new breed of hero is being born.
Life Guards Lance Corporal of Horse Andrew Radford ran 70 metres through a hail of machine gun fire and RPGs to rescue a terribly injured colleague.
Royal Marine Sergeant Matt Tomlinson charged machine gun posts during a river ambush outside Fallujah, and saved the lives of the US Marines he was attached to.
Parachute Regiment Lieutenant Hugo Farmer led his men in a desperate, three-hour fire-fight against the Taliban – in the same action for which Corporal Bryan Budd was awarded a posthumous Victoria Cross.
This list goes on and on – and now, for the first time, they tell their own stories, in their own words

In Foreign Fields
features 25 medal winners from Iraq and Afghanistan talking about the actions which led to their awards. Modestly, often reluctantly, they explain what it's like at the very sharp end, in the heat of battle with death staring you in the face. Destined to become a modern classic of war reportage,
In Foreign Fields
will appeal to all who care about our armed forces.



hardback edition
also available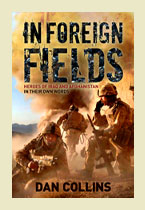 In Foreign Fields
(Hardback)
price:
£17.99
(+ free postage & packing in the
UK - overseas buyers please contact us first)
this book is available for immediate dispatch

Published November 23, 2007 – Hardback
ISBN:
978-0-9552854-8-6

<< back to current books
<< buy more books