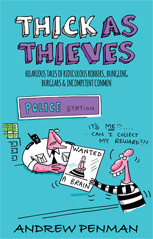 Thick As Thieves
Hilarious Tales of Ridiculous Robbers, Bungling Burglars and Incompetent Conmen
– Andrew Penman
price:
£8.99
(+ free postage & packing in the
UK - overseas buyers please contact us first)
this book is available for immediate dispatch

Published December 2013 – Paperback / 226pp
ISBN: 978-1-906308-58-2


Buy
this as an
eBook
NOTE:
Kindle software needed – you will be directed to a free Kindle download for PC and Apple Mac


Download
a
free
extract from this book
NOTE:
Adobe Reader
is required to view this PDF file

Book Description

There are a lot of criminals around – but, fortunately for the rest of us, a lot of them are really quite dense.
Like the bungling burglar who logged on to his own Facebook page at his victim's house – and forgot to turn the computer off when he left…
…and the gormless getaway driver who wrote in his diary 'Go Porsmouth [sic] Robbery happens' – and left it for police to find…
…and the robber who put a pair of dirty grey underpants on his head as a disguise to raid the shop next door, but had to take them off as he couldn't see where he was going…
…and the wannabe gangsters who left a stork's head with a warning note, 'Pay up – or you'll end up like this…' and signed it in their own, actual names…
…and the drunken thug who tried to remove a wart from his finger by blowing it off with his illegally-owned shotgun, and shot off the wart… and the finger… and most of the rest of his hand…
Daily Mirror crime-fighter extraordinaire and award-winning Investigations Editor Andrew Penman has spent years tracking down and exposing wrong-doers. Now – in the great British tradition of bestsellers such as The Book of Heroic Failures – he has scoured the country for this hilarious collection of those who are not just bad, but also dim… very dim.

<< back to current books
<< buy more books